Have you ever seen two balloons tied together and wondered what that was called? Or have you ever wondered what a balloon duplet is? And how do you make a balloon duplet?
What Is A Balloon Duplet?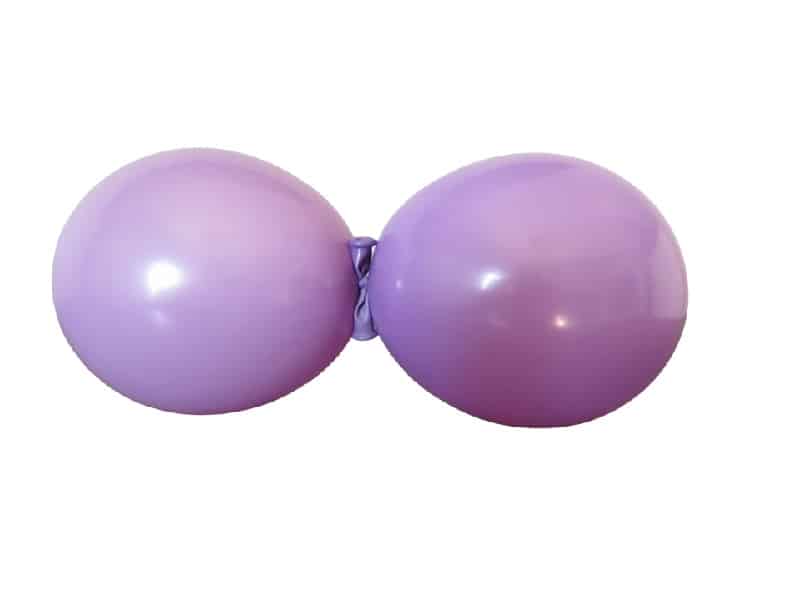 A balloon duplet is simply tying two balloons while also tying them together in one step. A balloon duplet can save you time and money.
A balloon duplet is one of the many basic elements of balloon decorating. Once you have mastered the skill of making balloon duplets quickly and efficiently your other balloon creations will benefit greatly.
Steps To Make A Balloon Duplet
Gather All Your Ingredients
Inflate First Balloon
Inflate Second Balloon
Tie Balloons Together
Enjoy!
1. Gather All Your Ingredients
You are going to need balloons and a balloon pump. I like this balloon hand pump from Amazon.
2. Inflate First Balloon
First using your balloon pump, inflate your first balloon a little bigger than the final size you would like your balloon to be.
Next, let a little bit of air out of the balloon until the balloon is the size you want it to be. The reason for this is just to stretch your balloon out just a little.
3. Inflate Second Balloon
Secure the inflated (not tied) balloon with one of your fingers from the hand holding the balloon pump.
This will allow you to inflate the second balloon without letting the air out of the first balloon thus allowing you to tie both balloons at the same time.
Next, blow up your second balloon in the same way you did the first.
4. Tie Balloons Together
And lastly, you are going to tie your two balloons together. Holding the necks of the inflated untied balloons cross the necks and wrap one of the balloon necks around the other, then stick that neck through the hole you just created. It takes a little bit of practice to get this technique down but it's pretty simple. (series of pictures showing this)
5. Enjoy!
All About Balloon Duplets
Balloon duplets can be made with any size balloon. And this versatile technique is used in many different balloon creations. Typically you will want the balloons to be the same size but in some cases, you would use different sizes of balloons it just depends on the effect you are going for. We will get into more on that later. You could also use a helium tank to make a duplet, again that would depend on what you were going for but for my example, I'm going to be talking about air-filled duplets.
I hope this post brought value to your day. If it did, please consider sharing with a friend or on your favorite social media. Thanks For Reading Fun With Balloons!